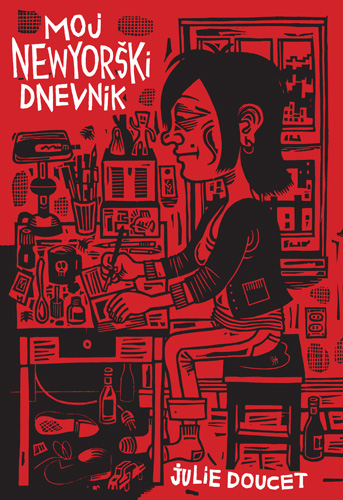 Naslovnica slovenske izdaje
Julie Doucet je kanadska striparka in prejemnica nagrade Harvey za najboljšega novega avtorja/avtorico. Njena stripovska pot se je začela po končani akademiji s samostojnim ustvarjanjem kontroverznega fotokopiranega zina Dirty Plotte, širšo stripovsko sceno pa je nase opozorila s stripi v Crumbovi reviji Weirdo. Julie Doucet velja za najbolj vplivno avtorico sodobnega stripa.
Moj newyorški dnevnik je njeno prvo daljše delo, v katerem opisuje in orisuje svoje zgode in nezgode v New Yorku, kamor se je preselila po končanem študiju v Montrealu.
Najprej spoznamo začetke njenega oblikovanja kot umetnice na likovni akademiji in njene nerodne poskuse socializacije ter odnosov z moškimi. Bralec dobi občutek, da nenehno hodi po robu 'normalnega', saj se zdi, kot da prav privlači samo neke čudake, neprilagojence in druge posebneže.
Življenje pri njenem newyorškem fantu je polno vzponov in padcev, sloge in nesporazumov, kar nanjo ne vpliva vedno najbolje. Doucetova nam skozi stripovski dnevnik svojega bivanja v New Yorku razgrne svoje življenje v tistem obdobju, in to včasih prav boleče iskreno. Prav nič se ne sramuje svojih hedonističnih ekscesov, spolnosti, popivanja, zadevanja in drugih elementov boemskega življenja. Tako tudi zvemo mnoge podrobnosti, ki jih v uradnih biografijah ni mogoče najti, v delu pa srečamo tudi nekatere akterje takratne newyorške stripovske scene. Konec koncev je to vendarle dnevnik, sočno branje za vse tiste, ki jih nadvse zanima podroben vpogled v intimo avtorice, in Julie pri tem prav nič ne skopari. Stripovski voajerji in opravljivke bodo cedili sline nad vsebino njenega razgaljanja, poznavalci pa bodo cenili njen prepoznaven slog in način, kako je ustripila relativno pomemben izsek svojega življenja. Povedano po Joycevsko, gre za zanimiv stripovski 'umetnikov mladostni portret'.
Prevedel: Bojan Albahari
marec 2012, barvna naslovnica, 105 čb str., A4-, 12 eur